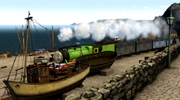 "The Flying Kipper" (occasionally known as "The Kipper Express") is the railwaymen's nickname for the overnight goods train, usually pulled by Henry, that carries fish from Tidmouth to the Mainland.
James appears to be the secondary engine to take the train when Henry is unavailable, as the former has been seen pulling the train several times.
Appearances
Specials:
Ad blocker interference detected!
Wikia is a free-to-use site that makes money from advertising. We have a modified experience for viewers using ad blockers

Wikia is not accessible if you've made further modifications. Remove the custom ad blocker rule(s) and the page will load as expected.