"More help means more dirt; more dirt means more fun!"
— Alfie's motto, Jack Jumps In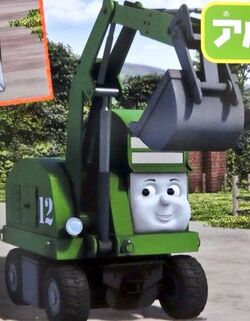 Alfie
Alfie is a green excavator.
Bio
Alfie was first seen working at the quarry and made good friends with Jack after Max roared pass by them, and Jack managed to tell him to stop bullying. He was later glad when Miss Jenny allowed him to stay with The Pack. Later, Alfie helped save a family of kittens from a building Oliver was demolishing. Later, he almost sank into a muddy pond, but Byron rescued him. He was involved in the restoration of Great Waterton and helped construct a bandstand.
Persona
Alfie is a friendly machine who gets on well with his work and never minds getting dirty or mucky during jobs.
Livery
Alfie is painted green with his number painted on his sides and on the back of his cab in white.
Appearances
Specials:
Ad blocker interference detected!
Wikia is a free-to-use site that makes money from advertising. We have a modified experience for viewers using ad blockers

Wikia is not accessible if you've made further modifications. Remove the custom ad blocker rule(s) and the page will load as expected.