"Is it electric?"
— Bridget Hatt to Toby, Toby and the Stout Gentleman, first season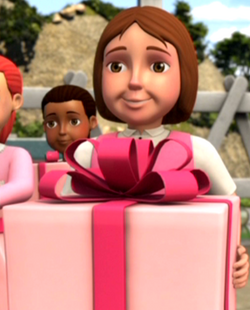 Bridget Amanda Hatt
Bridget Amanda Hatt (born 1943) is Sir Topham and Lady Hatt's granddaughter.
Bridget, like her brother, has never been shown to age, and has always stayed the same age ever since the first season. She and her brother helped Toby to find an abandoned castle. When it was her birthday, James was sent to collect her and take her to the town hall, and she took a liking to the pink undercoat he was painted in. She later caught chickenpox along with Stephen, convincing Henry that engines could also catch chickenpox.
Appearances
Edit
Specials:
Ad blocker interference detected!
Wikia is a free-to-use site that makes money from advertising. We have a modified experience for viewers using ad blockers

Wikia is not accessible if you've made further modifications. Remove the custom ad blocker rule(s) and the page will load as expected.