"Ready for action!"
— Butch and Thomas, Stuck on You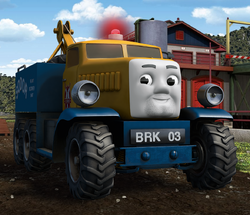 Butch
Registration number: BRK 03
Drivetrain: 6WD
Built: Sometime between 1940 and 1950
Butch, also known as the "Sodor Heavy Recovery Unit", is a breakdown vehicle.
Bio
Butch was first seen towing in Lorry 2 to Brendam Docks. A long time later, he was fitted with a magnet, but did not listen to Victor's advice on how to use it and became stuck to Thomas. They returned to the Steamworks and Victor helped them get unstuck. Butch is now part of the Sodor Search and Rescue Team and resides at the Sodor Search and Rescue Centre.
Persona
Butch is serious about his job and loves working, especially with his railway friends. Despite his size, Butch has a kind heart and is always ready when his service is needed.
Livery
Butch is painted yellow with a navy flatbed and "Sodor Heavy Recovery Unit" written on both sides in white. Since the opening of the Sodor Search and Rescue Centre, he has the logo of said establishment on his cab doors.
Appearances
Trivia
Butch did not have a face in the fifth season episode Horrid Lorry.
Butch's CGI render is a lot larger than his original model.
Ad blocker interference detected!
Wikia is a free-to-use site that makes money from advertising. We have a modified experience for viewers using ad blockers

Wikia is not accessible if you've made further modifications. Remove the custom ad blocker rule(s) and the page will load as expected.