"Cranky by name, cranky by nature."
— Salty, Kevin's Cranky Friend
Cranky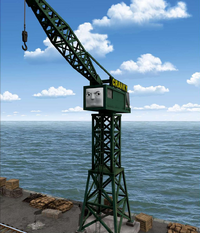 Cranky is a large grumpy dockyard crane, who works and lives at Brendam.
Bio
Cranky arrived on Sodor in 1960. When he was still new, he insulted Thomas and Percy by calling them bugs. However after a strong storm and a rather hard pull of the rope by Percy, he has leaned his lesson and has reformed.
The reason why Cranky is so grumpy is because he doesn't get enough sleep at night. He one time let his anger get the best of him and knocked the whole goods shed down at Brendam Docks.
He was involved in the starting of the jet engine out of rage, which pushed Thomas down the line very fast.
Persona
Cranky is grumpy because he doesn't get any sleep at night. He works all day and his only company is the seagulls.
Livery
Cranky is painted olive with black and brown pulleys amongst his mechanism and two work plates on each side that read "CRANKY".
Appearances
Specials:
Trivia
Cranky was the first character introduced to the TV series who was not Railway Series-related.