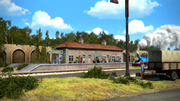 Ffarquhar is the top station of Thomas' Branch Line. The engine and carriage sheds are located here, as well as a line leading to Anopha Quarry. No engines are allowed on that line, except Mavis and Toby.
Its Thomas' favourite station, as revealed in the real Thomas episode Baa!.
Trivia
The Welsh-sounding name "Ffarquhar" is a made-up word derived from "Far-away quarry" by the Reverend W. Awdry and his brother George.
Tom Tipper the postman brings mail to the station for Percy to take to Knapford.
It is a designated stop for Bertie.
Ad blocker interference detected!
Wikia is a free-to-use site that makes money from advertising. We have a modified experience for viewers using ad blockers

Wikia is not accessible if you've made further modifications. Remove the custom ad blocker rule(s) and the page will load as expected.