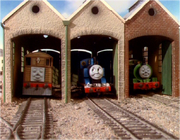 Ffarquhar Sheds have three berths for Thomas, Percy, and Toby.
Bio
It was a one berth shed for Thomas until Percy came. When Toby arrived workmen built two extra berths.
In Thomas' Sodor Adventures, there are two more berths for Emily and Daisy.
Appearance
On viewer's right there is a red brick shed which was the original. The other two sheds are white brick, which are the newer ones.
Ad blocker interference detected!
Wikia is a free-to-use site that makes money from advertising. We have a modified experience for viewers using ad blockers

Wikia is not accessible if you've made further modifications. Remove the custom ad blocker rule(s) and the page will load as expected.