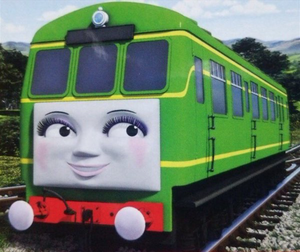 Flo
Gender: Female
Make: 1957 Motorama show car
Color: Mint, white
License Plate Number: SHO GRL
Occupation: Owner of Flo's V8 Cafe
Voiced by: Jenifer Lewis
Flo is a 1950's custom showcar. She is Ramone's wife, as well as the owner of Radiator Springs' local gas station.
Flo is a sassy, no-nonsense car who runs the local diner, Flo's V8 Cafe, and the only gas station for miles around.
Ad blocker interference detected!
Wikia is a free-to-use site that makes money from advertising. We have a modified experience for viewers using ad blockers

Wikia is not accessible if you've made further modifications. Remove the custom ad blocker rule(s) and the page will load as expected.