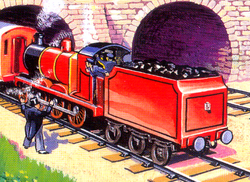 Geoffrey
Class: L&YR Class 25
Builder: Horwick Works
Designer: George Hughes
Configuration: 2-6-0
Geoffrey is a red tender engine who works on the Wellsworth-Brendam Branch Line.
Bio
Geoffrey was on Sodor when there was only Edward, Henry and Gordon, once he tried pushing Henry out of a tunnel because he wouldn't move as the rain would spoil his lovely green paint with red stripes, but he wasn't able to do so. When more engines were sent to help out on the railway. Geoffrey was sent to the Mainland. He later returned to Sodor when Henry was ill and he couldn't do any work whilst, but Thomas and Percy made Henry pull a long line of trucks which made Henry grind to a halt. Geoffrey and Emily came alongside and both helped Henry to the yards, and as a reward. The Fat Controller let Geoffrey stay on the island meaning he wouldn't have to return to the Mainland. Henry thanked him and Emily for helping him, and Geoffrey became good friends with Emily and Henry.
Persona
Geoffrey is an old engine who is kindhearted and helpful. He worries if another engine is ill or cannot do their work properly. He is also wise and clever too.
Livery
Geoffrey is painted in the NWR's red livery with yellow and black lining. He has red wheels and a red dome.
Appearances
Specials:
Trivia
Geoffrey's name was chosen, due to that in the real Thomas episode "Who's Geoffrey?", Thomas makes a made-up engine called Geoffrey, and tells Victor that he's red, so this gave DonaldDouglasandOliver11 an idea of creating him.
Geoffrey is actually the second red engine from the Railway Series, but with a name.
Ad blocker interference detected!
Wikia is a free-to-use site that makes money from advertising. We have a modified experience for viewers using ad blockers

Wikia is not accessible if you've made further modifications. Remove the custom ad blocker rule(s) and the page will load as expected.