"He may have whirley arms instead of wheels, but he seems to understand just what an engine needs!"
— Duck, All at Sea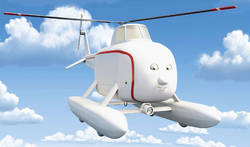 Harold
Harold is a helicopter who is based at the Sodor Search & Rescue Centre.
Bio
When Harold was first seen, he claimed that "railways are slow and out of date", but was proven wrong by Percy after Percy beat Harold in a race. When Thomas' brakes failed and became a runaway, he helped an inspector catch up to him, and stop. He also brought Santa Claus to the Christmas Party in 1986. He has also made good friends with Duck after he rescued an injured sailor.
Harold was based at the airfield at Dryaw until the construction of the Sodor Search and Rescue Centre. Since then he has joined the team and has gone on several missions such as searching for Thomas, rescuing Bertie from the Shake Shake Bridge, rescuing sheep, and climbers, and finding a lost elephant.
Persona
Harold speaks in a manner reminiscent of an RAF pilot, using terms such as "wizard" and "old chap" in conversation. Harold somewhat tends to be full of himself as he feels that "railways are slow", but he always gets his comeuppance in the end.
Livery
Harold is painted white with red lining.
Appearances
Specials:
Trivia
Harold has never had eyebrows.
Ad blocker interference detected!
Wikia is a free-to-use site that makes money from advertising. We have a modified experience for viewers using ad blockers

Wikia is not accessible if you've made further modifications. Remove the custom ad blocker rule(s) and the page will load as expected.