"I did something very bad."
— Luke, Blue Mountain Mystery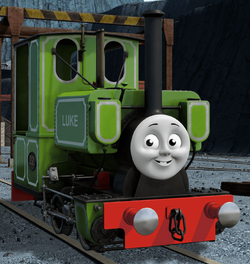 Luke
Number: SR 22
Builder: Kerr Stuart
Built: 1922
Gauge: 2ft 3in
Configuration: 0-4-0ST
Luke is a green narrow gauge engine who usually works at the Blue Mountain Quarry.
Bio
When Luke first arrived on Sodor, he believed he accidently knocked Victor into the sea, and believed he had been scrapped, so he hid at the Blue Mountain Quarry fearing he might be sent away if anyone found out until Thomas managed to find out that he hadn't actually been the cause of this, and now works regularly at the Blue Mountain Quarry.
Persona
Luke is a plucky little pea-green tank engine on the Skarloey Railway, brought to Sodor from a neighbouring land. For a long time, he hid in fear and deep shame in the tunnels and caverns of the Blue Mountain Quarry from a terrible, dark secret, only in the knowledge of the other narrow gauge engines, believing that he had caused a yellow engine to fall into the sea. Fortunately, he befriended and trusted Thomas, who investigated and realised the yellow engine was Victor and that the accident had not been Luke's fault, managing to clear his name. Luke is a gentle, sensitive soul and is bubbling with enthusiasm, keen to work as part of the team. Like many engines, there are times when he may want to run away and be left alone and he may not be quick to stick up for himself either, but when there is someone in need, Luke is passionate about showing how much he values his friends and will bravely heave into action without second thought.
Livery
Luke is painted green with white lining. His name is painted in white on his tanks. He has red buffer beams and silver buffers.
Appearances
Specials:
Trivia
Luke's number is derived from the year his basis was built, 1922.
Luke's whistle sound is Rheneas' at a lower pitch.
Ad blocker interference detected!
Wikia is a free-to-use site that makes money from advertising. We have a modified experience for viewers using ad blockers

Wikia is not accessible if you've made further modifications. Remove the custom ad blocker rule(s) and the page will load as expected.