"Hello there! My name's Philip! I'm a diesel boxcab!"
— Philip, The Little Engine Who Raced Ahead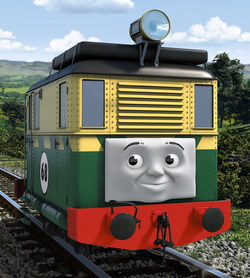 Philip
Number: 68
Class: PRR Class A6
Builder: Altoona Works
Built: Sometime after 1929
Configuration: 4w
Top speed: 15-20 mph
Philip is a cheery little diesel boxcab.
Bio
When Philip first came to Sodor, he met Gordon for the first time and wanted to have a race with him. Later, James got fed up with him and wanted to prove he was better, which led to him derailing over a bridge. Luckily, Philip was there to save him until Rocky came to help.
Persona
Philip is an enthusiastic and energetic diesel boxcab, though not as fast or strong as he thinks, he is always eager to help.
Livery
Philip is painted cream and green with the number 68 on his side.
Appearances
He will appear in the eighth season.
Specials:
Trivia
Philip is the first American diesel engine to be introduced in the series.
Ad blocker interference detected!
Wikia is a free-to-use site that makes money from advertising. We have a modified experience for viewers using ad blockers

Wikia is not accessible if you've made further modifications. Remove the custom ad blocker rule(s) and the page will load as expected.