"Hello, Thomas! What are you doing?"
— Rosie, Thomas and the Birthday Mail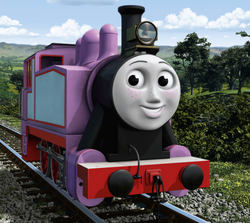 Rosie
Class: SR USA Class
Designer: Howard G. Hill
Builder: Vulcan Iron Works
Built: 1942 or 1943
Configuration: 0-6-0T
Rosie is a lavender tank engine.
Bio
When Rosie first arrived on Sodor, she followed Thomas around and wanted to be just like him, much to Thomas' annoyance. However, he was glad to see her after he got stuck in a land slide whilst taking some birthday mail to Alice.
Persona
Rosie is a friendly, respectful, and helpful tank engine. She and Thomas like to have fun and also like to help each other when they are doing work. Rosie could be described as a feisty, energetic tomboy who is not afraid to work hard.
Livery
Rosie is painted lavender with grey tank panels, gold boiler bands, and red detailing on her wheels and metalwork.
Appearances
Specials:
Trivia
Rosie's whistle sound is Thomas' at a higher pitch.