"Ahoy mateys! Salty, pride of the seven seas. I'm a new diesel and I'm here to give you some help."
— Salty, Salty's Secret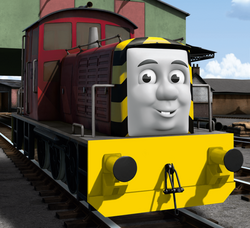 Salty
Number: 2991
Class: BR Class 07
Designer: Ruston and Hornsby
Builder: Ruston and Hornsby
Built: 1962
Configuration: 0-6-0
Top Speed: 27.5 mph
Salty is a diesel shunter who works at Brendam Docks.
Bio
Salty worked on an unnamed coastal railway before coming to Sodor. When Salty first arrived on Sodor, he was sent to work at a quarry, but missed the sea. However, he managed to cope with the trucks and fill in a big order for the Fat Controller, and was awarded by being sent to work at Brendam Docks.
Persona
Salty speaks in a pirates accent in using the terms "Ahoy!" and "Me hearty!". He is kind to both steam engines and diesel engines.
Basis
Salty is based on a BR Class 07.
Livery
Salty is painted crimson with pink warning stripes along his body, wasp stripes on his front and rear and yellow buffer beams with signs of rust. At the top of his forehead, he has the brim of a skipper's hat.
Appearances
Specials:
Trivia
Salty differs slightly from his basis. Most Class 07s have a crankshaft at the end of their siderods. Salty lacks this feature.