"You have caused confusion and delay!"
— The Fat Controller when he scolds his engines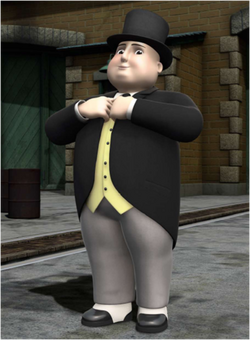 Sir Topham Hatt, the "Fat Controller"
Sir Topham Hatt, nicknamed "the Fat Controller" is the manager of the North Western Railway.
Bio
Prior to his becoming Controller of the North Western Railway, Sir Bertram Topham Hatt owned a Sentinel steam lorry named Elizabeth, who notes that he wasn't the best driver. When he was a young man, Edward always took him aboard an old coach on his birthday. The Fat Controller later received his knighthood for his service to the railway industry. Sir Topham was also the controller of the Skarloey Railway, until Mr. Percival was hired to help him manage the ever-increasing size of his railway industry. In the sixteenth season, he gained a track inspection car named, Winston, which is often used as a private transportation vehicle on the railway.
Sir Topham Hatt married Lady Hatt, and is the grandfather of Stephen and Bridget Hatt. He has a twin brother, Sir Lowham Hatt, and his mother is Dowager Hatt. According to the Official Website, "we have yet to meet his children", presumably Charles Hatt, who became the second controller in the Railway Series.
As well as owning several engines, he owns a cat, two cars, and lives in a mansion somewhere on the outskirts of Wellsworth. However, when the engines misbehave, it's Edward that the Fat Controller turns to in order to calm everyone down and restore order.
Attire
Sir Topham Hatt is a short, stout gentleman. He is usually dressed in a black suit with grey trousers, a cream or yellow waistcoat, a black tie, and a top hat.
Appearances
Specials:
Trivia
Due to political correctness, the Fat Controller is always known by his Sunday name of "Sir Topham Hatt" in the US.
According to Elizabeth, the Fat Controller was a bad driver in his younger days. In the seventeenth season, it seems his skills have not improved.
Throughout the television series, the Fat Controller is accompanied by two men in standard blue railway uniforms. They are presumed to be his bodyguards.
The Fat Controller received his knighthood for his service to the railway industry.