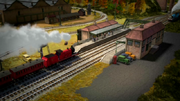 Wellsworth lies near the coast at the northern end of a peninsula close to Suddery. Nearby is a large hospital which serves the majority of Sodor's inhabitants and a nunnery.
In Thomas' Sodor Adventures, the shed has four berths for BoCo and Derek. The other two berths were for Bill and Ben, but since the clay pits returned in full CGI in Tale of the Brave. They no longer sleep here.
Ad blocker interference detected!
Wikia is a free-to-use site that makes money from advertising. We have a modified experience for viewers using ad blockers

Wikia is not accessible if you've made further modifications. Remove the custom ad blocker rule(s) and the page will load as expected.